Shipping $20 to USA per item, $10 to Australia (more for larger items)
shipping discounts apply
don't worry about "not secure" bs on the website URL, as no transactions are done on this site.
all transaction will be done securely through Paypal.
Paypal also handles any credit card transactions.

Click here to contact me by email.
if link does not work, my email address is: ubuy@iinet.net.au
Figural napkin rings and figural toothpick holders were
popular
mainly in the USA and in other places of the world during the period 1860-1910.
Napkin Rings were a
necessary item for every person to have
to identify their cloth napkin, which would only be washed once a week. Paper napkins had not been invented then.
Toothpick holders were a
necessary item on tables
to hold toothpicks, which were at the time were what a toothbrush is now.
Everyone had a napkin ring
, not all figural, but figural napkin rings are one of the most collectable items as most of them were marked as to maker and number according to the pattern/patent/production design. And just when you think you have them all, there are lots of others. Figural napkin rings were generaly made of Britannia metal and silverplated 4 times.
Figural toothpick holders are rarer than figural napkin rings
as less were made or required.
Most of the figurals I have, were found in Australia. I imagine a lot came over during the Gold Rush period in Australia during the 1880/1890s. Some were even sold in Australia, in Melbourne or Sydney, that were not released in the USA or Canada.

I research items carefully before buying and pricing them. My prices are set in accord with past sales, condition, and rarity. There is a fair amount of data on the web to price most items, although some have never appeared for sale before.

There are also numerous books/references which detail them photographically with their estimated value. Some of the figural napkin rings are worth $50, while others are worths thousands of dollars. Many figural napkin rings have sold for over $3000/4000 USD at public auctions in the USA.
I often use the book "
Figural Napkin Rings: Collectors Identification and Value Guide
" by Lilian Gottschalk and Sandra Whitson (1996) as a reference, denoted
G&W
in my descriptions.
Figural napkin rings are arguably the most collectable item. They are works of art c1880. They are in most classified and identifiable. They are of high value. They can be easily transported/posted when sold. They do not take up much space. There are some that you will never acquire, so it is a bottomless pit as a collectable. And finally they are beautiful.
Click here to contact me by email.
Here are the categories I have created (click on photographic link below to see each category)
Figural Napkin Rings
="">
Military
Figural Toothpick Holders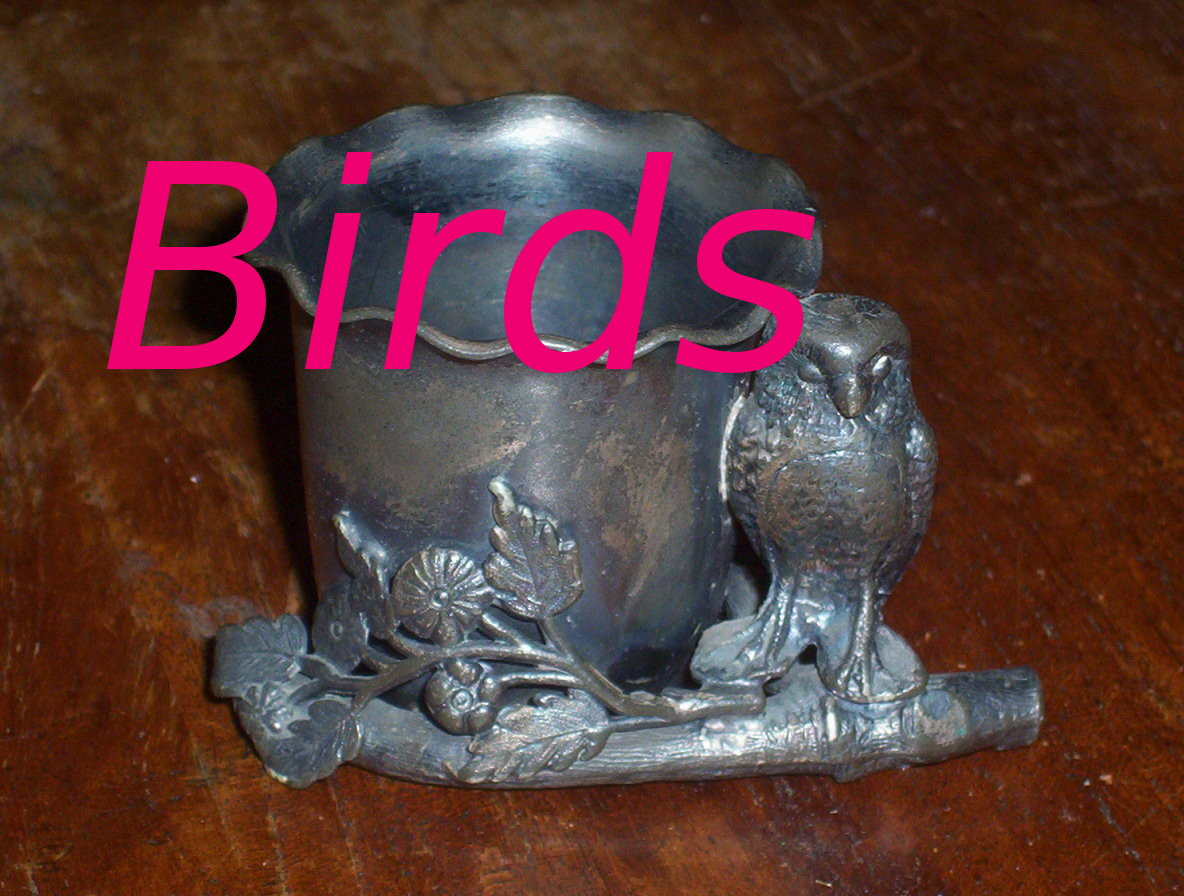 Figural Salt and Peppers
Figural knife rests
Figural Card Receiving Trays
Figural Matchholders
Figural Candle Holders
Figural Pocket watch Holders
Figural Paperweights
Figural Other Silverplate
Figural Mixed Metal
Sterling Silver